When cats go missing it is distressing for their families so it would be appreciated if you have the time to look through, just incase you can help reunite a family. If you think you may have seen one of our lost cats or if you recognize a cat please contact us as soon as possible.
If you have lost or found a cat we invite you to 'post' a picture and caption on this page. If you prefer you can email us and we will add your notice on your behalf. Email 'Lost and Found' cats to admin@qcatrescue.org.nz
MISSING!!!!! Please contact Ruth if you have seen this cute kitty around.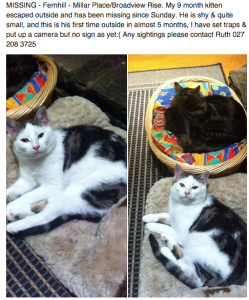 Lost – Black & White male cat from Cromwell – Olds Crescent area.  Recently shifted to Cromwell from the Frankton area and wondering if maybe he is on his way back there.   Bobby is 10 and a half years old, long fluffy coat with a large area of white under his chin and white [...]